Daily we want to get online, share with the world. Technology is giving us a chance to do so and so much more. In this article, we'll learn about Namecheap domains.
Domains are the names people use to get to a certain website. It's like a street name for a certain area. The domain also happens to be the permanent address for a website.
Domains are used to:
Show credibility of a website.

For easy access to a website.

To help you compete with large businesses effectively.

To brand your business
There is so much a domain name can do for you. But before choosing a domain name one should consider the following:
Keep it short- make it easy for people to remember it.

Not using double letters, numbers, and hyphens.

Making it catchy.

And more
Read more about choosing a domain name here. Give your business the best and keep it competitive with the other corporations.
Well, what are Namecheap domains?
Namecheap is a domain registrar and web service provider. It has been around for a while and is making it easy for businesses to grow.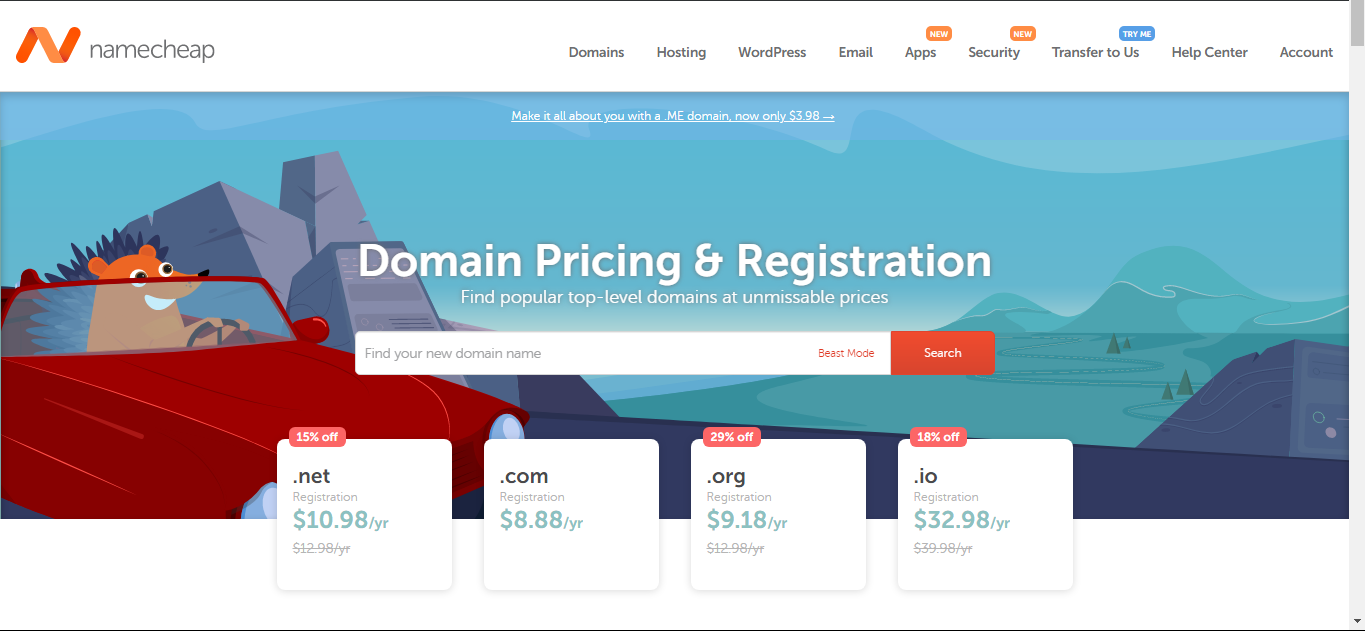 Namecheap domains are the best and affordable. Namecheap also provides cheap web hosting plans for everyone.
Here is also what Namecheap provides:
Domains

Hosting

WordPress

Email

And more.
Pros
Affordable pricing plans- from domains to web hosting plans, their plans are available for everyone and affordable.

Ease of use- their dashboard and overall website are appealing and easy to use.

Support- they are always ready to help everyone to solve issues.

Website features- don't worry about backup or security since they help you take care of it.
Cons
They don't have the best speeds.

Plans are limited.
Is Namecheap good for domains?
Yes, they provide domains that are affordable. For as low as $0.98 one can get a domain. Get promoting your business easily with Namecheap.
Namecheap provides the best domains and keeps its services affordable. Well, they don't have hidden charges on their services.
Besides, the purchase is easy as well as registration. Get online fast and easily with Namecheap Domains and keep winning.
Can you buy a domain name forever?
No,  a domain can only be registered for a specific time. One can register a domain for a maximum of 10 years only. It's a service it needs to be renewed. 
Unless you renew it someone else may purchase it and it becomes their own. Different companies have different plans for renewals.
Which is better GoDaddy or Namecheap?
When it comes to the two both perform best. They ensure that one gets online at affordable pricing. Also, the two are popular.
However, when it comes to domains Namecheap beats GoDaddy. This is because GoDaddy is quite expensive especially when renewing a domain.
Also, at Namecheap, you get free WHOIS protection and custom nameservers while at GoDaddy you get charged for these services.
Get to know what you need before you rush to getting your services. Both GoDaddy and Namecheap have their pros and cons.
Namecheap domains pricing
 Namecheap has affordable plans for domains. Here are their pricing:
| | | | |
| --- | --- | --- | --- |
| Name | Register | Renewal | Transfer |
| .com | $8.88 | $12.98 | $8.58 |
| .net | $10.98 | $14.98 | $11.48 |
| .org | $9.18 | $14.98 | $11.48 |
| .me | $3.98 | $18.98 | $14.98 |
| .xyz | $1.00 | $12.88 | $10.88 |
How to register a domain name on NameCheap
1. Visit Namecheap home
From the homepage select the domains tab. On this new page fill in your desired name and hit search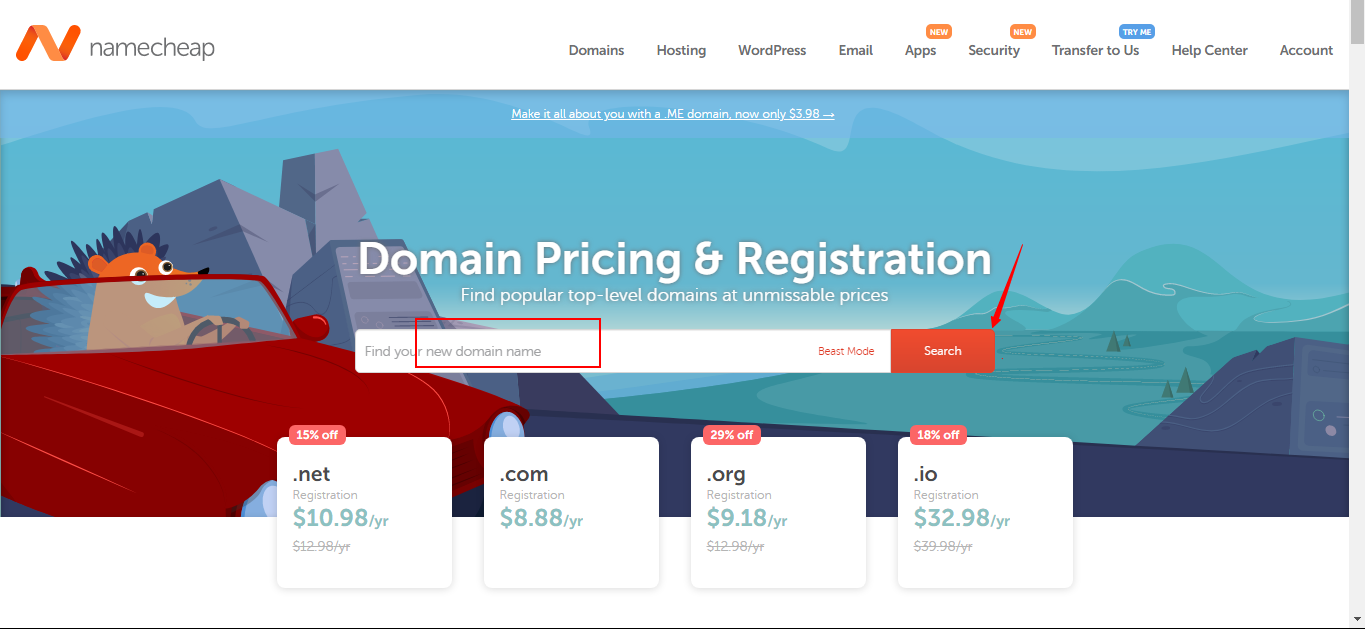 This will display a list of available domains and their cost. Check the best extension that works for you and click on add to cart.
2. Checkout
This is where you add addons to your domain. Get to add hosting, VPN, and more.
On clicking checkout, it takes you to order confirmation and configuration. Get to add the number of years and more others.
Log in/Sign up
To purchase a domain you must be a registered user. You need an account where your order will be sent and more information will be coming to.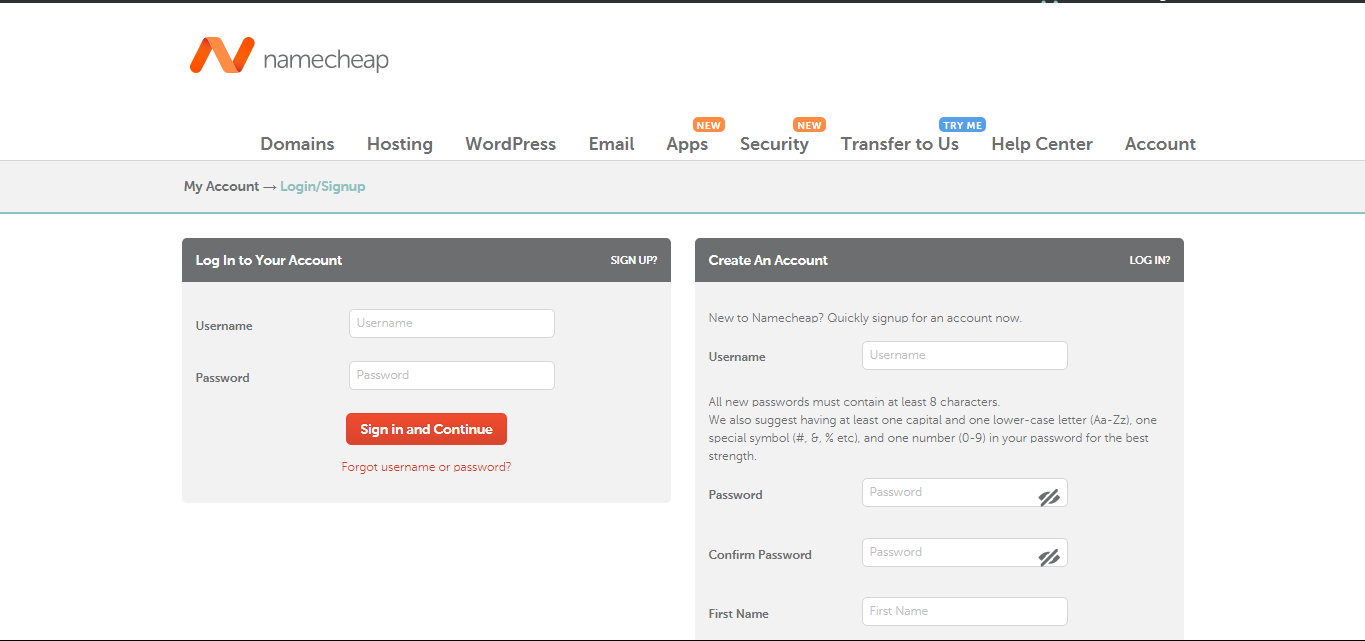 Once done with the signup procedure to purchase. This means choosing a payment method for your domain and services. That's how easy it is to buy Namecheap domains.
Well, we have seen how Namecheap operates, how about its alternatives? Where else can one buy a domain name?
Here is the list.
1. Truehost Cloud
Truehost is a domain registrar and a web service provider for all. It makes it easy for people to go live, share ideas and grow successfully.
They offer cheap domains from as low as $1.  Truehost Cloud also offers:
Domain registration and Transfers

Web hosting

VPS & Servers

Security & SSL

Free Website Builder

And more
Pros:
 Reliable- their services are always up and running.

Affordable- for as low as $1 you can own a domain.

Speed- they have amazing speeds

Secure- have implemented the best security measure for their services.

Support- have 24/7 support that is always ready to help
Con:
Their free plan(bronze) is only a month.
2. GoDaddy
It's a web host and a domain registrar. GoDaddy is popular and has been around for a while and has clients all over the world.
GoDaddy also providers:
Domains

Websites & Stores

Website Security

Marketing Tools

And more.
Pros:
Reputable name- it is popular and has been around for a while now.

Affordable- they have different plans for every feature it has.

Payment options- supports a variety of payment options.

Ease of use- they have a good interface that everyone can use easily.
Cons:
Costly restoring data.

Costly on renewals.
3. Namesilo
It's a domain registrar in America. It also offers:
Web hosting

Emails

SSL 

And more.
Pros 
Free WHOIS protection

User-friendly panel.

Cheap registration process

No hidden prices.
Cons
Their design could be improved.
 There are others like:
Google Domains

Gandi.

DreamHost.

And more.
Going live these days has been made easy. Namecheap domains are making it easy for everyone to start their online presence.
Technology is helping solve problems easily. It's creating bridges to many more operations and making it easy for everyone to go live.