Are you looking for a way to earn some extra cash in Pakistan? Look no further than Daraz Affiliate Marketing!
As one of the country's largest online marketplaces, Daraz offers an incredible opportunity for anyone interested in affiliate marketing.
Not only is it easy to join, but with the right strategies and effort, you can start earning a significant amount of money from commissions.
So if you're ready to take your financial situation into your own hands and become a part of this exciting world of affiliate marketing, keep reading to learn everything you need to know about joining Daraz Affiliate Marketing in Pakistan!
What is affiliate marketing?
Affiliate marketing is a form of digital marketing where an individual or business earns a commission by promoting someone else's products or services.
In the case of Daraz affiliate marketing, you can earn money by promoting Daraz products on your website, blog, social media platforms, or any other online platform.
The process involves joining the affiliate program through the Daraz Affiliate Program page and creating unique links for specific products that you want to promote.
Once you have joined and created your unique links, you can start promoting them through various channels such as social media posts, blogs, email campaigns and so on.
When someone clicks on the link and makes a purchase from Daraz within 30 days of clicking the link, you earn a commission on that sale.
The more people who click your links and make purchases through them, the more commission you can earn.
Benefits of joining Daraz affiliate marketing program in Pakistan
One of the most significant benefits of joining the Daraz affiliate marketing program in Pakistan is that it provides a lucrative opportunity to earn money.
The program offers commissions up to 11% on each sale made through your unique referral link. It means that if someone makes a purchase worth Rs. 10,000 through your referral link, you can earn up to Rs. 1,100 as commission.
Another benefit of joining the Daraz affiliate marketing program is that you don't need any investment or capital upfront to start earning.
You only need a computer or smartphone with an internet connection and basic digital marketing skills such as social media management and content creation.
Finally, by becoming a Daraz affiliate partner, you get access to promotional tools such as banners, product links, and widgets that make it easy for you to promote products on your website or social media channels.
And there are regular opportunities for bonuses and incentives offered by Daraz for high-performing affiliates.
Requirements for joining Daraz affiliate marketing
Who can join Daraz affiliate program?
Daraz Affiliate Marketing is a great opportunity for bloggers, content creators, and publishers to earn money by promoting Daraz products. 
To be eligible to join the Daraz Affiliate Program in Pakistan, you need to have an active website or social media page with a good following.
Your website should have original and high-quality content that aligns with the values of Daraz.
Bloggers who write about fashion, beauty, lifestyle, technology or any other related topics can join the program.
Content creators who create videos or graphics related to these topics can also apply.
Publishers who have websites related to e-commerce or online shopping can also become affiliates.
Note that you need to be at least 18 years old and legally allowed to enter into an agreement with Daraz.
Also, your website must not contain any offensive material or promote hate speech.
If you meet all these criteria, then you are eligible to join the Daraz Affiliate Program and start earning today!
How to join Daraz affiliate marketing program
Here's a step-by-step guide to signing up
Step 1: Visit the Daraz Affiliate Program website and click on the "Sign Up Now" button.
You will be redirected to a registration form that you need to fill out with your personal information.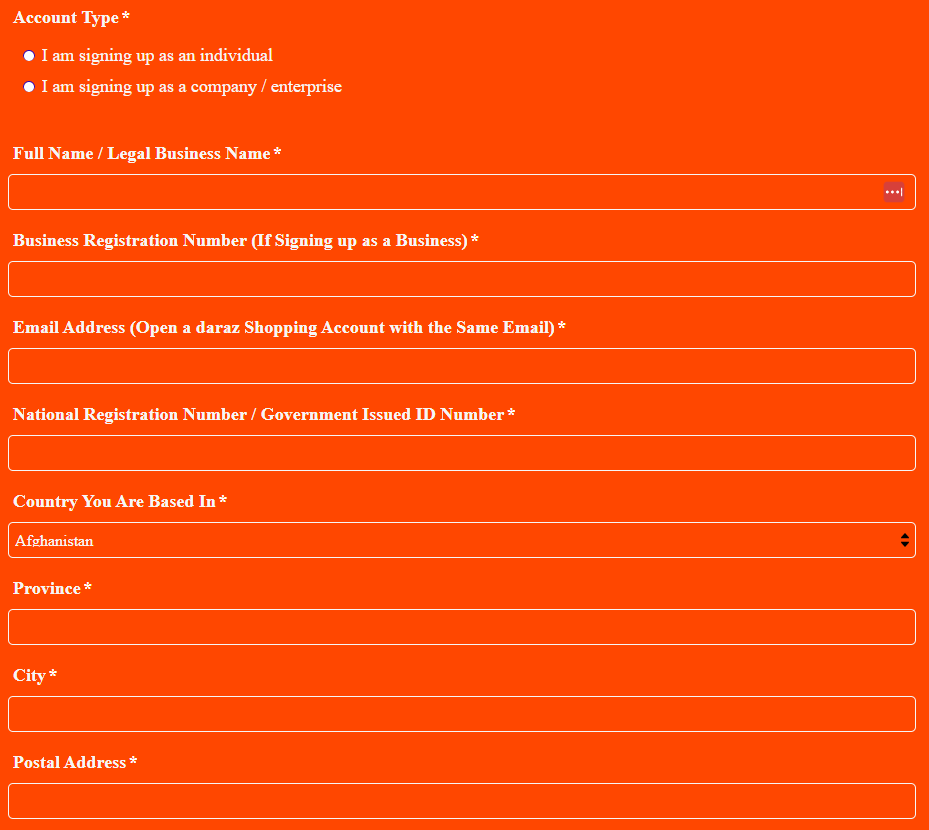 Step 2: Once you have filled out the registration form, you will receive an email from Daraz with a verification link. Click on the link to confirm your account.
Step 3: After verifying your account, log in to your dashboard and start exploring different campaigns available for promotion.
Choose campaigns that align with your niche or interests.
Step 4: Generate affiliate links for products or campaigns you want to promote by clicking on the "Get Code" button next to each product.
Share these links through blogs, social media platforms, or other promotional channels.
Step 5: Start tracking your performance and earnings through the dashboard provided by Daraz Affiliate Program.
Follow this step-by-step guide, become part of Daraz's affiliate marketing program, and earn commissions for promoting their products.
Tips for filling out the application form accurately
Read the instructions carefully: Before filling out the application form, make sure to read all instructions and guidelines provided by Daraz affiliate marketing program. This will help you better understand the application process and avoid any mistakes.
Provide accurate information: It is essential to provide accurate information in your application form, including your personal details, bank account information, and contact details. Any incorrect or false information can lead to disqualification from the program.
Be specific with website/blog details: If you have a website or blog that you plan on using for promotion through Daraz affiliate marketing program, be specific with its URL and content type. Make sure it aligns with Daraz's policies and is relevant to their products.
Include relevant social media platforms: Along with your website/blog, include other social media platforms where you plan on promoting Daraz products like Instagram, Facebook, Twitter etc.
Double-check before submission: Once you have filled out the entire application form accurately with all required information, double-check everything before submitting it to ensure there are no errors or omissions that could affect your eligibility for the program.
Providing accurate and detailed information in your Daraz affiliate marketing program application is crucial for a successful approval process.
Always take time to read guidelines thoroughly before proceeding with filling out an application form so that you won't miss out on this great opportunity!
How long does it take to get approved?
The approval process for Daraz Affiliate Marketing in Pakistan can take up to 5-7 business days.
Once you have submitted your application, the team at Daraz will review it and verify the information provided.
They will ensure that all details are correct and that your website or social media channels meet their criteria.
During this time, ensure that you meet all the requirements for becoming a Daraz affiliate marketer.
You need to have an active website or social media channel with a substantial following and quality content related to products sold on Daraz.
In addition, you must be able to drive traffic to Daraz through your platform.
It is also essential to provide accurate contact information during the application process as the team may need to get in touch with you for additional details.
After being approved as a Daraz affiliate marketer, you can start promoting their products and earning commissions on sales made through your unique referral link.
Best practices for promoting Daraz affiliate products
Tips for choosing the right products to promote
Choosing the right products to promote is crucial in affiliate marketing.
As an affiliate marketer, it's essential to identify the products that align with your niche and audience.
Start by researching popular products within your niche and analyzing their demand and competition.
Consider promoting products that you have used or tested yourself; this way, you can provide credible reviews and recommendations to your audience.
Another factor to consider is the commission rate offered for each product. While high commission rates may seem lucrative, ensuring the product is relevant and valuable to your audience is important.
Avoid promoting low-quality or scammy products as it can damage your reputation as an affiliate marketer and harm trust with your audience.
Lastly, keep track of the performance of each promoted product regularly. Use analytics tools provided by affiliate networks like Daraz Affiliate Marketing in Pakistan to measure click-through rates (CTR), conversion rates, and other key metrics.
This data will help you optimize future promotions based on what works best for your audience.
How to create content that converts
The first step to creating content that converts is understanding your target audience.
When it comes to affiliate marketing, this means knowing who your readers are, what their pain points are, and how the product or service you're promoting can solve those problems.
Market research and customer surveys can help you gain insight into your audience's needs and preferences.
Once you have a clear understanding of your target audience, it's important to create content that speaks directly to them.
This means using language and tone that resonates with their values and interests. Your content should also be visually appealing, with eye-catching graphics or videos that capture attention and keep readers engaged.
Finally, ensure your content includes a clear call-to-action (CTA) that encourages readers to act after reading.
Whether it's signing up for a newsletter or making a purchase through an affiliate link, a strong CTA can increase conversions by giving readers a clear next step.
Best ways to promote affiliate links
One of the best ways to promote affiliate links is through social media platforms such as Facebook, Instagram, and Twitter.
You can share your affiliate link, a catchy product description, and an eye-catching image.
Engaging with your followers by asking questions or encouraging them to leave comments is important.
Another effective method is creating blog posts or articles that highlight the benefits of the product you are promoting.
Ensure you include your affiliate link within the content and provide helpful insights about why readers should try out the product.
Lastly, using email marketing can be a great way to promote affiliate links. Create a compelling email that showcases the product and its benefits, then include your unique referral code or link for your subscribers to use when making a purchase.
Remember to always disclose that you are using affiliate links in order to maintain transparency with your audience.
Earning potential and payment process
How much money can you make as a Daraz affiliate?
As a Daraz affiliate, the amount of money you can make depends on a variety of factors such as your audience size, their purchasing power and buying habits.
Commission rates for Daraz affiliates can vary from 1% to 10% depending on product category.
For instance, fashion and beauty products have a higher commission rate compared to electronics and appliances.
In addition to this, note that the commission percentage does not necessarily translate into high earnings if your audience isn't making purchases.
Therefore, it's crucial that you invest time in building an engaged audience that is interested in purchasing products from Daraz.
Moreover, as an affiliate marketer for Daraz in Pakistan, there are numerous opportunities available to earn extra income besides commissions such as by participating in promotional campaigns or sales events organized by Daraz.
Payment options available to affiliates
The payment options available for affiliates include direct bank transfer, Easypaisa, and JazzCash.
Affiliates can choose their preferred payment method during the registration process.
Direct bank transfer is a popular option for affiliates who have a bank account in Pakistan.
The minimum payout amount for direct bank transfers is Rs. 5,000 and the processing time takes around 15-20 days.
Easypaisa and JazzCash are also convenient options for affiliates who do not have a bank account or prefer mobile wallet transfers.
The minimum payout amount for both Easypaisa and JazzCash is only Rs. 1,000 with a processing time of around 3-5 working days.
It's important to note that additional charges may be associated with these payment methods, such as transaction fees or exchange rates if you're receiving payments from outside Pakistan.
Affiliates should carefully read Daraz's terms and conditions regarding the payment options available before joining their affiliate program to ensure they select the best option based on their needs and preferences.
Payment schedule
Daraz pays its affiliates once a month on or before the 15th day of the calendar month in which that Invoice was issued.
Related: 15 Profitable Affiliate Marketing Programs in Pakistan